Bulk Plastic Containers For Sale & Lease
Buy or Lease Bulk Plastic Containers—Ropak, Orbis, & More
As a partner to your Michigan business for your container needs, we sell and lease a variety of bulk plastic containers for both short-term and long-term shipping solutions. View our inventory below and get a quick and easy quote!
Need your plastic containers repaired?
Check out our plastic bulk container repair services either at your location or our Grand Rapids, MI facility.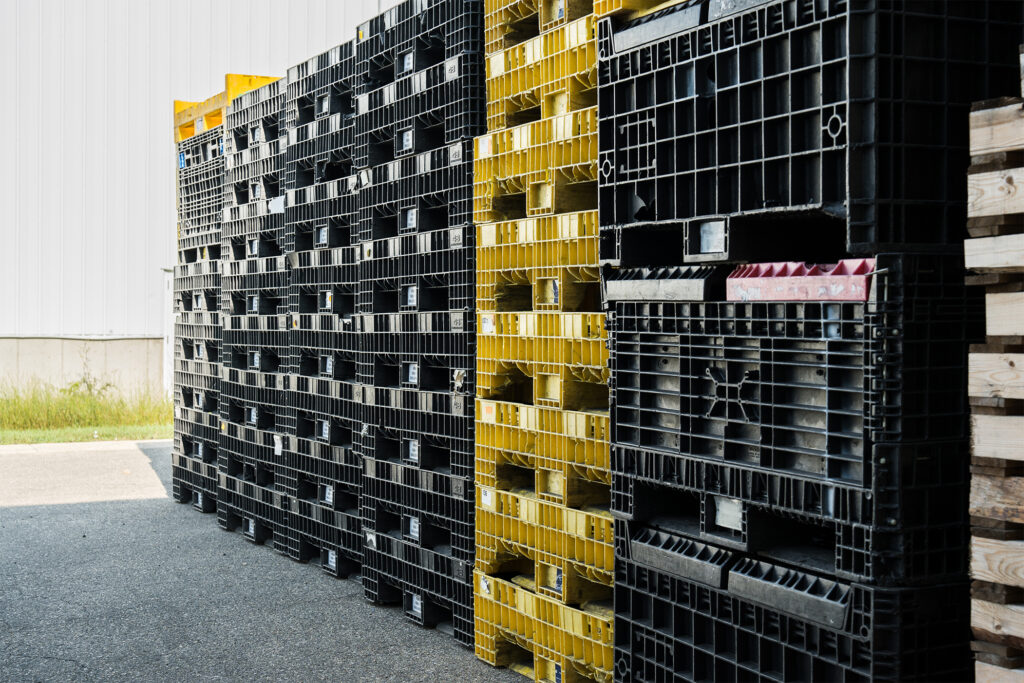 New & Used Plastic Bulk Containers for Sale & Lease
Explore our inventory list including a wide range of new and used plastic bulk containers, all available at our Grand Rapids facility for sale or lease. We carry popular brands including Orbis, Buckhorn, Monoflo, and Ropak containers, our size selection caters to your business's unique storage and transportation needs. 
Discover more cost-effective container solutions with our Grade A refurbished containers. Find the perfect solution to streamline your operations and save on costs with our collection of used bulk containers.
Our Bulk Container Inventory
78x48x34 Plastic Bulk Container

$275

78x48x25 Plastic Bulk Container

$250

70x48x34 Plastic Bulk Container

$225

65x48x34 Plastic Bulk Container

$185

64x48x34 Plastic Bulk Container

$185

56x48x34 Plastic Bulk Container

$160

45x48x34 Plastic Bulk Container

$150

45x48x32 Plastic Bulk Container

$130

45x48x25 Plastic Bulk Container

$125

40x48x39 Plastic Bulk Container

$115

40x48x29 Plastic Bulk Container

$110

30x32x34 Plastic Bulk Container

$100

30x32x25 Plastic Bulk Container

$95
All of our plastic collapsible bulk containers and knockdowns are:
Get faster service at the best possible price with MIC!
Buying vs. Leasing Plastic Bulk Containers
When it comes to reusable bulk containers, get to know your options with MIC. With long- and short-term leasing and buying options available, you can have plastic containers available right when you need them.
We help you find the most efficient and cost-effective solution for your business needs.
Buy Bulk Plastic Containers
If you require containers consistently and for the long term, purchasing will be more cost-effective for you over time. Collapsible plastic containers can also be nested and efficiently stacked in your facilities when not in active use. We sell all of the sizes listed above in our inventory and pride ourselves on a faster, easier experience than many other bulk container providers.
Lease Bulk Plastic Containers
Leasing is a preferred option when you have a short-term or intermittent need for containers, as it allows you to use them for a specified period and return them when they are not in use. Free up valuable storage space and return your containers when you no longer have the need for them! MIC has long-term and short-term container leasing options available for all of our container inventory.
Additional Plastic Container Services
Industrial Container Programs
Our industrial container services go beyond conventional solutions. We pride ourselves on being a partner and a resource to your business for all your container needs.
Our team understands the importance of seamless operations, and that's why we offer comprehensive on-site bulk plastic container services in Grand Rapids and throughout Michigan. Whether you require container repairs, maintenance, or container delivery to your facility, we've got you covered. We take the hassle out of managing your container inventory, ensuring they are in optimal condition and ready for use when you need them.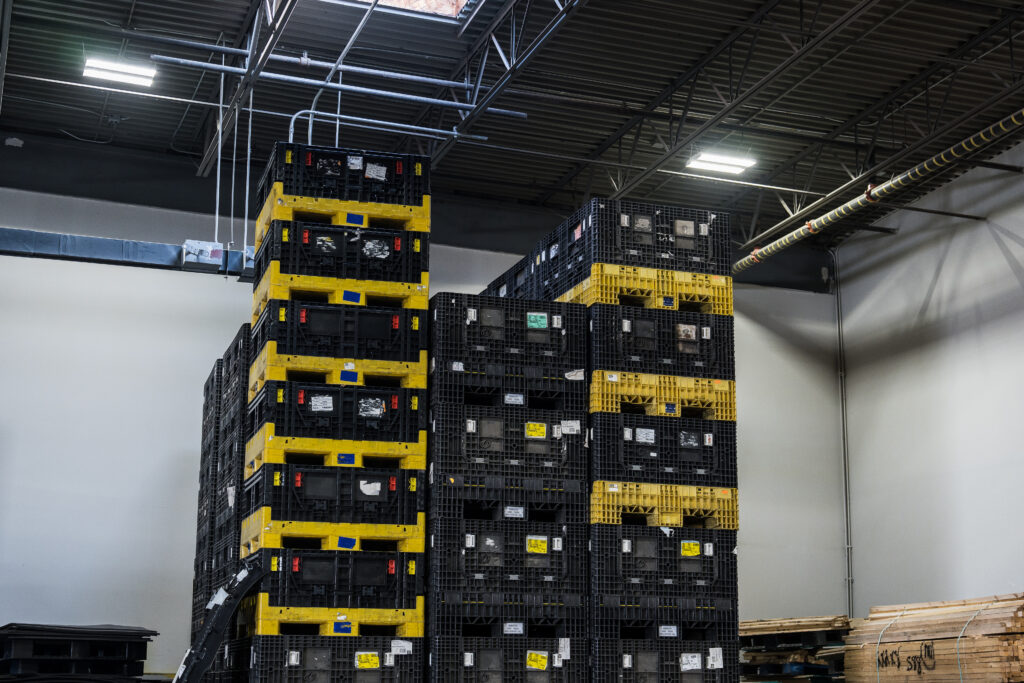 Grade A Refurbished Containers: Cost-Effective & Premium Quality Container Solutions
When supplying our customers with refurbished containers for their inventory, we offer the best Grade A refurbished bulk containers. Learn about the different grades below:
We offer the highest quality Grade A refurbished plastic containers to our customers. These containers are refurbished in excellent condition. They may have minimal signs of wear and tear, if any, and are considered like-new. These containers are thoroughly cleaned and inspected to ensure they meet the highest quality standards.
Grade B containers are usually in good condition but may show signs of use, repaired parts like new runners, and minor cosmetic imperfections. These imperfections are typically superficial and do not affect the functionality or structural integrity of the container. Grade B containers are also cleaned and inspected, but they may have more visible wear than Grade A containers.
Grade C containers are considered to be in fair condition. They may have more noticeable signs of wear, such as scratches, scuffs, or dents, but they are still structurally sound and functional. Grade C containers may be used for applications where appearance is less important than functionality.
While all of these options are perfectly usable refurbished container options, we typically offer the highest quality Grade A refurbished plastic containers to our customers.
What are the benefits of using returnable bulk plastic containers?

Using returnable packaging like our reusable plastic containers, knockdowns, and bulk bins saves you money because the containers can be used over and over again, repaired as often as needed, and last lifetimes. This is a great return on your investment for your company compared to other forms of expendable packaging. Not to mention, the collapsible models can also be nested and stored away conveniently when not in use.
Can my plastic containers be repaired?

Yes, in most cases your returnable plastic containers can be repaired easily, since they are designed with individual components that can be replaced when they become broken or damaged. Get your bulk plastic containers repaired. 
Should I lease or buy bulk plastic containers?

The most cost-effective answer to your bulk container needs, whether to rent or buy, can be determined by how often you use your containers, how you use your containers, your available storage space for these containers, and more factors. Generally, if you use containers consistently and plan on using them long-term, it will be more beneficial for you to buy your own bulk plastic containers and repair them as needed, keeping them in your inventory for as long as possible. 

If your use of containers isn't consistent throughout the year, or you don't plan on using containers in the long term (or you simply don't have storage for them when they're not in use), leasing or renting your bulk plastic containers is a smarter option.
What other container services does MIC provide?

Michigan Industrial Container is a container supplier and full-service container repair facility located in West Michigan. We sell and lease bulk plastic containers from top brands including Orbis, Buckhorn, Monoflo, Ropak, and more. In addition to new and refurbished plastic container sales, we offer high-quality repairs for bulk containers already in your fleet. Our customers also have the option of getting on-site repairs at their facility and other programs for on-demand solutions relating to all their container needs.
Where does MIC provide container services?

Our facility is located at 7441 Division Ave S Suite C, Grand Rapids, MI 49548. We have the ability to travel to perform onsite repair of your bulk plastic containers, knockdowns, wood crates and returnable plastic containers at your location within a 200-mile radius of our Grand Rapids facility. This allows us to repair plastic bulk containers and wood boxes and crates for businesses in and around Grand Rapids, Holland, Kalamazoo, Lansing, Detroit, Ann Arbor, and beyond.